MICROTAC AIRFLOW SOLUTIONS
High capacity air flow and ventilation are essential for developments such as data centres and computer rooms to handle high heat loads generated from the racks of processors running 24/7. Our range of perforated panels, grating panels and aluminium grilles would be able to provide a comprehensive and cost-effective solution to address the demands of any specialized developments that require efficient air ventilation.
---
PERFORATED PANELS
Microtac Perforated Panels (MFP) are interchangeable with MFS panels to provide air flow for ventilation and cooling. The panels are unitized constructed, ensuring excellent structure support.
MFP 22S ALL STEEL PERFORATED PANEL WITH 22% FREE AREA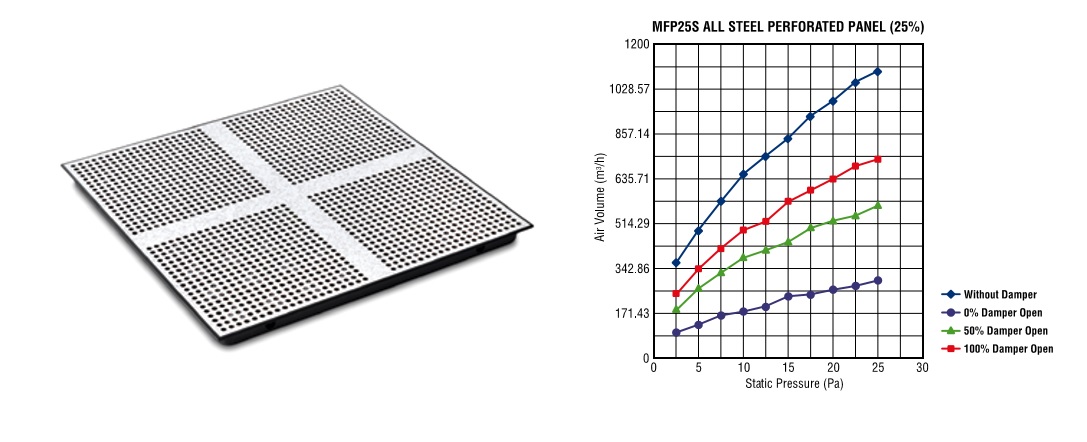 MFP 25S ALL STEEL PERFORATED PANEL WITH 25% FREE AREA

MFP 25A ALUMINIUM DIE-CAST PERFORATED PANEL WITH 25% FREE AREA

MFP 32S ALL STEEL PERFORATED PANEL WITH 32% FREE AREA
MFP 17S ALL STEEL PERFORATED PANEL WITH 17% FREE AREA
---
DAMPER KIT
| | | |
| --- | --- | --- |
| ROTATION DAMPER | SLIDING DAMPER | OPPOSED BLADE DAMPER |